Digital Nomad Life in Jamaica
Summary: Digital nomads and expats talk about what it is like to live in Jamaica. Get tips from others living in Jamaica about where to live, how to find a place to live, pros and cons of living in Jamaica and more.
How do I meet people in Jamaica?
When we asked people living in Jamaica about club and activities where newcomers can meet others, they responded:
"As far as meeting people, I think you'd have an easier time in Kingston -- lots of social clubs, nightlife, expat organizations, Lots of Jamaicans go to church, an underrated place to meet people. Jamaicans are quite friendly so once you meet a couple people you'll likely meet their friends as well," wrote one digital nomad living in Jamaica.
"Many non-Jamaicans without family or friends here join expat groups - I believe some have regular meet-ups. Otherwise you'll meet people most places - Cafe Blue in Sovereign Centre is a great place to hang out, and I know a lot of people work remotely from there `as I often do myself when I'm in need of human company daytime and my friends are at work in their offices...I've met a number of people there who've become good friends...there's also a Starbucks in Liguanea but I avoid that chain back in the UK and do same here," said another foreigner in Jamaica.
Answer Question & View More Answers
What is life like in Jamaica?
When we asked people living in Jamaica what life is like and how people spend their time, they said:
"I am not directly in Spanish Town. I am in a beautiful community called 'Green Acres'. There seems to be a number of retired citizens, who enjoy playing dominoes and socializing," said another member in Spanish Town.
Where should I live in Jamaica?
We asked digital nomads and expats how they chose their neighborhood and found a place to live. They answered:
"We wanted to be close to the Montego Bay airport so we looked at a few parishes on the west half of the island. Falmouth is up and coming so we selected Falmouth. My husband and I are real estate agents in the US, so we just felt comfortable contacting a real estate agent to find our current house," said another member in Falmouth.
"I found my first place, through friends, and then found second place, which was perfect, thru a referral of someone i spoke to on email, for a while, who had lived in the same apt...it really is best to check out a place for a while, before you decide where you want to live...you will more than likely change your mind..at least once..," explained one person living in Negril, Jamaica.
Answer Question & View More Answers
What do I need to know before moving to Jamaica?
When we asked people what advice they would give someone preparing to move to Jamaica, they said:
"Your first stop needs to be the PICA website. This is the immigration website and it will list the options available to you for residency. There's more to it than just packing your bags and deciding you're going to move to Jamaica… I do suggest however, that you come for three months, maybe extend it to six months, and actually live here. By that I mean, you're gonna live like a local; not a tourist. There are two totally different things. You need to figure out how you're going to find your lifestyle here… As you're not gonna be able to work, unless your company has an office here and sponsors you for a work permit. Or, do you have enough money to start your own business. As for housing, buy or rent the best place you can afford… In a gated community. A high end gated community Ex: Freeport, Spring Garden, Spring Farm, Rose Hall, you don't want to live in a typical Jamaican gated community that was built by developers.," commented a person living in Montego Bay, Jamaica.
"Moving here will require you to make a lot of socio-psychological adjustments, for instance, if you are someone who values ordered processes and systems - and I can only assume that as an account, this might be important to you, then you will need to adjust very quickly to the less agreeable aspects of Jamaica..there is a lot of bureaucracy but it doesn't always work in quite the way that westerners expect or at the pace that westerners might be used to. I'm from the UK, of African-Caribbean heritage, though not Jamaican, and I have been here for 18 months now, I truly love living here, but it requires, as I say, some degree of mental adjustments. Please do as much research as you're able to, do come for extended periods of time, get to know people, the neighbourhood you want to live in, etc before you commit to such a huge life changing decision," explained one digital nomad living in Kingston, Jamaica.
Answer Question & View More Answers
What do people appreciate most about the culture in Jamaica?
"Jamaicans are like every other people. Some you wouldn't want to make friends with, others that you will wonder just how you managed o live your life without having had that person in it. Most Jamaicans are warm, friendly, hospitable and helpful. In the time that I have been here, for the most part I have experienced nothing but warmth in my interactions with people. This is not to say that you will never encounter some mean, bad-minded people, but bad-minded people exist everywhere," said another digital nomad in Kingston.
"The things I most appreciate are the people for sure!! There attitude totally different from here they are more laid back than Canadians. They take time out to enjoy the little things in life! The music is another thing that falls into the top 5," commented a person living in Negril, Jamaica.
What do people find most challenging about the culture in Jamaica?
"Jamaicans are in general very friendly people but I found that they tend to keep strangers at arms distance...I'd been here for 18 months before I realised that I'd never been invited to anyone's home! Other expats have said the same," wrote one digital nomad living in Kingston, Jamaica.
"Be careful about who you choose as friends, because the general advice I give is that people will always take your kindness for weakness. NEVER disclose info about yourself. Stay out of people's business and keep people out of yours. After a while you will see that Jamaicans rarely disclose their intentions or plans. They'll be packing their bags to go overseas but they won't tell you until the last moment if they feel the need to. If you're able to, keep guard dogs, don't stop to talk to strangers, don't listen to hard-luck stories, keep it moving, Don't think you can be a saviour because your life will soon become very difficult and uncomfortable - if you want to help, support, reach out directly to charities. Remember. People here adopt the saying that a fool and his money are soon parted. It's possible to have the best life here but you have to know and understand what you'll be getting yourself into. It's not all beaches and sunsets," said another foreigner in Jamaica.
Answer Question & View More Answers
What are the pros and cons of living in Jamaica?
"Personally, I would rather live in Kingston rather than in a beach area. Actually, even though Jamaicans say "Kingston" the middle class areas are really in St. Andrew, a suburb of Kingston. With the new-ish highway, you can get to a good beach in 2 hours or so and you'll have many more amenities in Kingston than in some of the beach areas. And when you live in a place, these become more important than going to a beach every day (IMO). However, there's a lot of traffic in Kingston, but since you don't have to be rushing to an office for 9 am, this may not be a big concern. Everyone will have differing opinions on this so on your next visit, maybe sample a few airbnbs in different parts of the island to get a feel for it. I would take a week or two to do this, if you can. Kingston is very different from say Mandeville or Montego Bay or Ocho Rios," said another member in Kingston.
"If you want a measure of what it truly means to live here, get a friend or relative to send you a barrel and go collect it yourself. A day - or two - spent at the wharf, dealing with the arbitrariness that is Customs is a good start. If you can survive that, you might just survive everything else. Whatever you do, don't expect that there will be any order or sense to how things are done. Don't expect perfectly ordered systems, processes and procedures...they MIGHT (not always) exist on paper but the actuality tends to be different," explained one expat in Kingston.
About the Author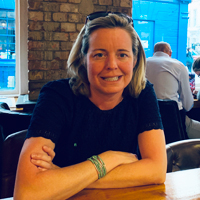 Betsy Burlingame is one of the founders of Digital Nomad Exchange and the Founder and President of Expat Exchange. She launched Expat Exchange in 1997 as her Master's thesis project at NYU. Prior to Expat Exchange and Digital Nomad Exchange, Betsy worked at AT&T in International and Mass Market Marketing. She graduated from Ohio Wesleyan University with a BA in International Business and German.
Some of Betsy's articles include 12 Best Places to Live in Portugal, 7 Best Places to Live in Panama and 12 Things to Know Before Moving to the Dominican Republic. Betsy loves to travel and spend time with her family. Connect with Betsy on LinkedIn.
Expat Health Insurance
Get a quote for international health insurance from our partner, William Russell.
GET A QUOTE
Expat Health Insurance
Get a quote for international health insurance from our partner, William Russell.
GET A QUOTE

Jamaica Guide
Learn what digital nomads and expats have to say about living in Jamaica.

Jamaica Forum
Talk with other digital nomads and expats in Jamaica on our Jamaica forum - meet people, get advice and help others.
Contribute
Help others in Jamaica by answering questions about the challenges and adventures of living in Jamaica.

Healthcare & Health Insurance in Jamaica
Digital Nomads in Jamaica offer advice about healthcare, hospital visits, emergency rooms visits, finding a doctor and buying health insurance in Jamaica.

Guide to Rentals & Real Estate in Jamaica
Advice for people renting and buying real estate in Jamaica.