Digital Nomad Life in Kingston, Jamaica
Summary: Digital nomads like living in Kingston, Jamaica because of its vibrant culture, beautiful beaches, and affordable cost of living. The best neighborhood to live in is New Kingston, as it is the most modern and developed area of the city. It is also close to many of the city's attractions, such as the Bob Marley Museum and Devon House. The approximate population of Kingston, Jamaica is 937,700. The weather in Kingston, Jamaica is typically warm and humid, with temperatures ranging from the mid-70s to the mid-80s Fahrenheit. The monthly cost of living for a digital nomad in Kingston is relatively low, with basic expenses such as food, transportation, and entertainment costing around $500-$700 USD per month. The cost to rent a centrally located, one-bedroom apartment with high-speed internet access in Kingston is approximately $600-$800 USD per month.
How do I meet people in Kingston?
When we asked people living in Kingston about club and activities where newcomers can meet others, they responded:
"There are so many local NGOs and civic organisations that are in need of help and support and I am sure would greatly appreciate offers from volunteers or interns. It very much depends on your interests. I work in the area of gender and development - which also encompasses children's and youth rights," explained one person living in Jamaica.
Answer Question & View More Answers
What is life like in Kingston?
When we asked people living in Kingston what life is like and how people spend their time, they said:
"Life for expats and digital nomads in Kingston is vibrant and exciting. The city is full of culture, music, and art, and the people are friendly and welcoming. Expats and digital nomads can find a variety of activities to enjoy, from exploring the city's historic sites to taking part in the local nightlife. The cost of living is relatively low, making it an attractive destination for those looking to live and work abroad. The city also offers a wide range of accommodation options, from luxury apartments to budget-friendly hostels. With its beautiful beaches, lush rainforests, and vibrant culture, Kingston is an ideal destination for expats and digital nomads looking for an exciting and unique experience," commented a person living in Kingston, Jamaica.
Where should I live in Kingston?
We asked digital nomads and expats how they chose their neighborhood and found a place to live. They answered:
"One option for finding a place to live in Kingston is to search online for rental listings. Websites such as Jamaica Classifieds, Jamaica Property Search, and Jamaica Real Estate Listings offer a variety of rental listings in Kingston. Additionally, you can contact local real estate agents who specialize in Kingston rentals. Additionally, you can look for rental postings on social media sites such as Facebook and Twitter. Finally, you can ask friends and family who live in Kingston for recommendations," said one foreigner in Kingston.
What do I need to know before moving to Kingston?
When we asked people what advice they would give someone preparing to move to Kingston, they said:
"Jamaica is a beautiful island as are most of the people. But it's not an easy place to live and you have to be fairly resilient to do so," explained one person living in Jamaica.
Answer Question & View More Answers
What do people appreciate most about the culture in Kingston?
"Expatriates in Kingston appreciate the vibrant culture, friendly people, and the laid-back atmosphere. They also enjoy the city's rich history, diverse cuisine, and the beautiful beaches. The city's music scene is also a major draw, with a variety of genres from reggae to dancehall. Expats also appreciate the city's vibrant nightlife, with a range of bars, clubs, and restaurants to explore. Finally, the city's tropical climate and lush natural beauty make it a great place to live," explained one expat living in Kingston, Jamaica.
"Jamaicans are like every other people. Some you wouldn't want to make friends with, others that you will wonder just how you managed o live your life without having had that person in it. Most Jamaicans are warm, friendly, hospitable and helpful. In the time that I have been here, for the most part I have experienced nothing but warmth in my interactions with people. This is not to say that you will never encounter some mean, bad-minded people, but bad-minded people exist everywhere," said one digital nomad in Kingston.
What do people find most challenging about the culture in Kingston?
"Be careful about who you choose as friends, because the general advice I give is that people will always take your kindness for weakness. NEVER disclose info about yourself. Stay out of people's business and keep people out of yours. After a while you will see that Jamaicans rarely disclose their intentions or plans. They'll be packing their bags to go overseas but they won't tell you until the last moment if they feel the need to. If you're able to, keep guard dogs, don't stop to talk to strangers, don't listen to hard-luck stories, keep it moving, Don't think you can be a saviour because your life will soon become very difficult and uncomfortable - if you want to help, support, reach out directly to charities. Remember. People here adopt the saying that a fool and his money are soon parted. It's possible to have the best life here but you have to know and understand what you'll be getting yourself into. It's not all beaches and sunsets," said one foreigner in Jamaica.
"Not getting work done right the first time, and having to wait for things to be done right away," remarked one member in Kingston.
Answer Question & View More Answers
What residency documents or visas did I need if I will be in Kingston for a while?
"If you plan to stay in Kingston for a while, you will need to obtain a valid Jamaican visa. Depending on your nationality, you may also need to apply for a work permit or residency permit. Additionally, you may need to provide proof of sufficient funds to support yourself during your stay," said one foreigner in Kingston.
What cultural blunders should I try to avoid making in Kingston?
We asked people in Kingston if they could share any humorous cultural blunders they commited. They wrote:
"It is important to be respectful of local customs and traditions when visiting Kingston. It is considered rude to be overly loud or disruptive in public places, so it is best to keep conversations and laughter at a reasonable volume. Additionally, it is important to dress modestly and conservatively, especially when visiting religious sites. It is also important to be aware of local laws and regulations, and to avoid taking photographs of people without their permission. Finally, it is important to be respectful of the local language and to avoid using offensive language," said one member in Kingston.
What are healthcare services like in Kingston?
When we asked expats and global nomads about the quality of medical care in Kingston, they replied:
"Healthcare services in Kingston, consist of a mix of public and private facilities, offering a range of medical services to the city's residents. The public healthcare system is managed by the Ministry of Health and Wellness, which operates several hospitals and clinics throughout the city. These facilities provide primary, secondary, and tertiary care services, including general medicine, surgery, obstetrics, and gynecology, among others. In addition to public hospitals, there are numerous private hospitals and clinics in Kingston, offering specialized services and treatments. These private facilities often have more advanced equipment and shorter waiting times, but they can be more expensive than public healthcare options. Primary healthcare services in Kingston are provided through a network of health centers and clinics, which offer basic medical care, immunizations, and maternal and child health services. These centers are usually the first point of contact for patients seeking medical attention and are staffed by doctors, nurses, and other healthcare professionals. Emergency medical services in Kingston are available through the public hospitals, as well as some private facilities. Ambulance services are provided by the government and private operators, ensuring timely transportation of patients to the appropriate medical facilities. Pharmacies are widely available throughout Kingston, providing prescription and over-the-counter medications to residents. Many pharmacies also offer basic medical consultations and advice from trained pharmacists. Despite the availability of healthcare services in Kingston, the system faces challenges such as limited resources, overcrowding, and long waiting times at public facilities. The government is working to improve the quality and accessibility of healthcare services in the city, with ongoing investments in infrastructure, equipment, and staff training," said one foreigner in Kingston.
What are the pros and cons of living in Kingston?
"If you want a measure of what it truly means to live here, get a friend or relative to send you a barrel and go collect it yourself. A day - or two - spent at the wharf, dealing with the arbitrariness that is Customs is a good start. If you can survive that, you might just survive everything else. Whatever you do, don't expect that there will be any order or sense to how things are done. Don't expect perfectly ordered systems, processes and procedures...they MIGHT (not always) exist on paper but the actuality tends to be different," explained one digital nomad living in Kingston, Jamaica.
"Relocating here was one of the best decisions I have ever made, I love my life here, I have a great circle of friends - very few of whom are expats," said one member in Kingston.
About the Author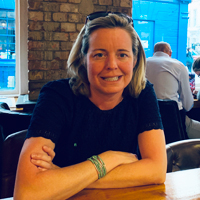 Betsy Burlingame is one of the founders of Digital Nomad Exchange and the Founder and President of Expat Exchange. She launched Expat Exchange in 1997 as her Master's thesis project at NYU. Prior to Expat Exchange and Digital Nomad Exchange, Betsy worked at AT&T in International and Mass Market Marketing. She graduated from Ohio Wesleyan University with a BA in International Business and German.
Some of Betsy's articles include 12 Best Places to Live in Portugal, 7 Best Places to Live in Panama and 12 Things to Know Before Moving to the Dominican Republic. Betsy loves to travel and spend time with her family. Connect with Betsy on LinkedIn.
International Health Insurance
The innovative PassportCard allows for a stress-free healthcare experience. Get up to 10% off on your policy now.
GET A QUOTE

Kingston Guide
Digital nomads and expats talk about what it's like living in Kingston.

Living in Kingston
More about what it's like living in Kingston.

Jamaica Forum
Talk with other digital nomads and expats in Jamaica on our Jamaica forum - meet people, get advice and help others.
Contribute
Help others in Jamaica by answering questions about the challenges and adventures of living in Jamaica.

Healthcare & Health Insurance in Jamaica
Digital Nomads in Jamaica offer advice about healthcare, hospital visits, emergency rooms visits, finding a doctor and buying health insurance in Jamaica.